With my recent ADD approach to the blog's design, you might have missed this button: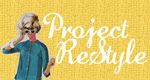 Please, check out the
project
. It's a great idea - turning stuff you don't use into stuff you want. I became interested in restyling after reading Michael Sleeth's
Serve God, Save the Planet: A Christian Call to Action
(
great book - I highly recommend for anyone interested in greening up their act
). I'm challenging myself to repurpose items I no longer use or enjoy. My plan: make
ReStyle It
posts a weekly feature.
My first "official"
ReStyle
is this castro cap from Camelbak:
The hat's style is good, and it was a cute fix for crazy short hair days. But I like to leave skulls to pirates, poison and bikers. Time for something more feminine.
I found this Andy Warhol inspired print (in the remnant bin!) - not something I'd make a shirt out of but a terrific accent fabric.
The bright colors reminded me of flowers without being overtly floral. This is how I made fabric flowers:
1. Heat up iron.
2. Cut fabric into a long strip at least 1.5" wide and 8" long. The longer and thinner the strip, the flatter the flower will lay. For a more cup like flower, cut a wider, shorter strip (what I did).
3. Fold in half length-wise and iron flat.
If you are planning on attaching this to a garment that will be washed, use fray check or bind the cut edges before moving on to the next step.
4. With a coordinating thread, hand sew a
running stitch
along the cut edge.
Don't be put off by the phrase "hand sew." I'm learning to love hand sewing because it is quiet and portable. I'm not signing up for a hand pieced quilt any time soon, but I'll eagerly tackle a small project or tailoring job.
5. Pull the running stitch tight so that the fabric bunches then sew the edges together, creating a circle.
Time to attach:
If your flower is supposed to lay flat, iron first.
6. Attach the flower by sewing just around the gathered stitch. Use a running stitch, making sure you include all fabric layers.
I added an additional, smaller flower in the center for more texture and covered the center stitching with a bead.
The finished product:
I was so excited the next day when I woke up with crazy hair and had an excuse to wear my "new" hat.
Whether or not you agree that I improved the hat, I hope you will at least take the inspiration to alter something in a ReStyle It project of your own.